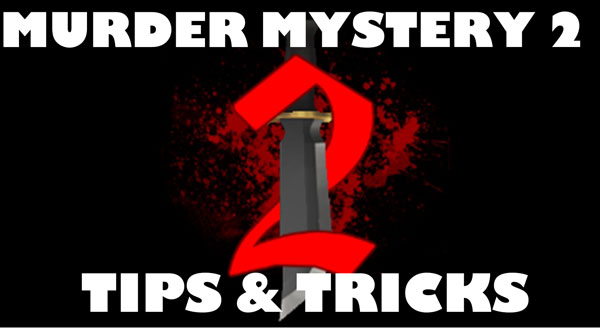 The Goal
The goal of Murder Mystery 2 (link to the game) depends on your character. The goal of the murderer is to kill everyone else on the server. They lose if they even if they miss one person. The goal of the sheriff and heroes are to kill the murderer and prevent him from killing any more people. The goal of innocents is to survive as long as possible. That can be pretty hard with an experienced killer, and many possible suspects surrounding you everywhere you go. This is MM2 Tips and Tricks.
 MM2 Tips and Tricks
In Murder Mystery 2, you really want to buy weapon boxes, because they look cool, and you can trade them for even nicer weapons. Weapons don't really help you with the game, they are just for show.
Perks or Powers are what really help you rise to the top. There are 7 perks. When you first join the game your character has the default perk, which is footsteps, where you can see everyone's footsteps and they change color depending on age. The other six perks are
sleight
ninja
fake gun
haste
ghost
x-ray
The only time you can use your perks is when you are the murderer. To equip a perk, you have to go to the shop, and under your items click perks. Then, you have to click on the perk you want to use (after you have bought it) and click the button in the lower-right corner that says "equip."
Radios are a cool thing you can buy with robux on the game. They look stylish and play your music, but they make it hard to hear the murdering. Someone with a radio-equipped might be trying to cover up the murdering noise.
Types of Characters
There are types of people chosen by the random wheel, at the beginning of the game. The Sheriff, the Murderer, and the Innocents. After the sheriff dies, any innocent can pick up his or her gun and become the hero. You can help even as an innocent by texting out clues so that others can know who the murderer is. After you die, you can still watch the action on spectate mode. Finally, if you die just know that anything you say cannot be heard by living people.
Watch out for…
Some really dangerous perks are silent knife, sleight, and fake gun.
Silent knife is just as it sounds. The murderer's killing goes silent. This makes a sheriff's job harder, because you can't kill an innocent as a sheriff or hero, or else you die.
Sleight is very dangerous because you can throw your knife. Instead of getting up close, you kill people even ten feet from you.
Fake gun will trick innocents into thinking the holder is the sheriff, and people flock around them, easy for the kill. Because of this, you should avoid people especially if they are following you. You should also hang in a big group because there is safety in numbers. If the sheriff watches over your group, only the bravest would dare come near to kill.
Your main goal on any round should be to collect all your coins because average people can only collect 40 coins, and elite can only collect 50 coins. With such high prices for anything good, you need all the money you can get.
For more BLOXtips Tips and Tricks, click here.